Sign-up for Our Upcoming OLTA Land Securement Webinar Series!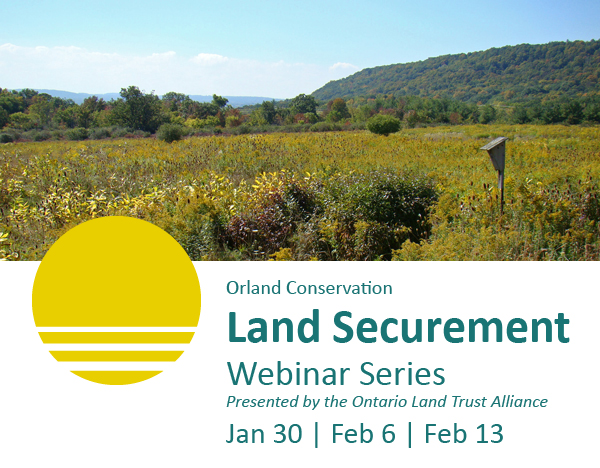 Orland Conservation will be delivering a series of land securement webinars with the Ontario Land Trust Alliance this January and February, 2014.
OLTA – in partnership with Orland Conservation – is pleased to offer three webinars focused on strengthening and advancing land securement efforts. These webinars will appeal to anyone involved in land securement work, and are highly recommended for staff and/or volunteers at land trusts, conservation authorities and municipalities.
Webinar #1: Land Securement on a Tight Budget—Creative Case Studies
Thursday January 30, 2014 @ 2:00pm ET Presented by: Robert Orland
The first webinar in our series will illustrate how to successfully complete land and trail acquisition projects for your land trust, conservation authority or municipality. Common obstacles experienced when negotiating and closing land securement agreements can often be overcome by thinking 'outside the box'. By discussing a wide variety of case studies—donations, purchases, split receipts, conservation severances, leasebacks and others—Robert will demonstrate creative negotiations to obtain win/win solutions as well as strategic engagement of community partners. These solutions can assist with identifying cost-effective approaches to expand or connect existing natural areas and important trails.
Webinar #2: Creating a Land Securement Strategy
Thursday February 6, 2014 @ 2:00pm ET Presented by: Robert Orland and Kate Potter
We all know that it's important to conserve ecologically significant areas and farmland, but where do you start? Having a strong land securement strategy can provide focus to your work, helping to stretch your dollars and ensure that funding and staff efforts are directed toward securing the most desired lands. Our second webinar will outline key components of creating a strategy including securement tools, alternatives to securement, creating priorities, evaluating properties, funding partnerships, leveraging dollars and landowner contact. A strategy can be a catalyst for community responsibility and 'big picture' thinking related to education, community development, research and planning, resource development and green space stewardship.
Webinar #3: Municipal Partnership Models—Finding Focus
Thursday February 13, 2014 @ 2:00pm ET Presented by: Robert Orland
Municipal land securement programs are great examples of coordination and collaboration toward the common purpose of land acquisition. Although most have been in operation for several years, these programs have had to adapt and change in order to respond to current circumstances. Cut-backs in funding availability, variation in demographics and landowner attitudes, and changes in partner support and involvement have all required a creative and flexible approach to ensure continued effectiveness on the ground. Drawing on successes and challenges faced by the regional programs in York (since 2000), Peel (since 2006) and Halton (since 2009), this final webinar in our series will showcase how municipal land securement programs have had to be resilient in the face of a changing landscape, and lessons we can all learn going forward.
How to Register
Please contact OLTA at 416-588-6582 or e-mail Phyllis Lee at phyllis.lee@olta.ca
Once registered, OLTA will assist you with any set-up/technical aspects (note they are using a new webinar platform). Please note that the participation fee is per 'computer' – you can have as many people gather 'round as you'd like!
For complete details, view or download the PDF flyer
Note: Times are Eastern Standard Time. Each webinar runs approx. 60-75 minutes.
OLTA Members: $15 for one webinar; $25 for two or $35 for all three!
Non-Members: $25 for one webinar; $40 for two or $55 for all three!
OLTA is pleased to extend member pricing to members of any land trust alliance in Canada.
Speaker Bios

Robert Orland
Robert founded Orland Conservation in 2003 as a social enterprise that offers a range of services in land conservation, sustainability planning and environmental communications to municipalities, conservation authorities and land trusts. Acquiring over 25 years of experience in land conservation, Robert began his career as an environmental planner with the Lake Simcoe Region Conservation Authority and worked in a variety of positions before specializing in land securement with the Nature Conservancy of Canada. In 2008, Robert formed Backyard Bounty, an urban farming organization that promotes community-based sustainable urban gardening and organic food production in partnership with local residents and business owners in Guelph. A skilled strategist, public speaker and accomplished entrepreneur, Robert has delivered presentations and workshops as an expert on land securement across southern Ontario and abroad. Working in partnership with municipalities and government agencies for many years, Robert has facilitated and advised on the protection and creative stewardship of nearly 10,000 acres of environmentally significant natural heritage lands and parks in Ontario's urban and rural communities. Robert is committed to making a sound contribution to the land conservation and sustainability movement in Canada.
Kate Potter
Kate brings more than 10 years of experience in conservation project management, public outreach and multi-stakeholder engagement. She previously coordinated over 30 municipal and non-profit stakeholders for the Caring for the Moraine Project with the Oak Ridges Moraine Foundation and led the development of a watershed stewardship and outreach project with the Lake Simcoe Region Conservation Authority. Since 2011, Kate has coordinated landowner contact and education for the Peel Region Greenlands Securement Program. She has worked closely with municipalities and conservation authorities to develop conservation land securement strategies and programs throughout Southern Ontario. In 2013 Kate organized a natural heritage land conservation and stewardship workshop with the City of Mississauga for local landowners. Kate is particularly skilled in strategic planning, program assessments, facilitation, outreach and education, partnership-building and contributing to community-based conservation and sustainability initiatives.
Related Projects: