Sign-up for Our 3rd OLTA Land Securement Webinar Series!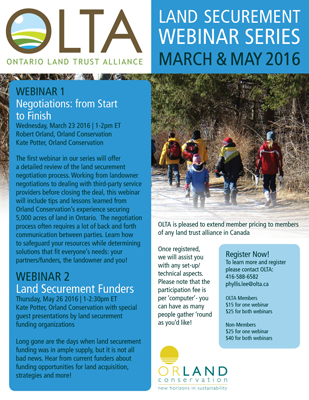 Orland Conservation will be delivering a 3rd series of land securement webinars with the Ontario Land Trust Alliance this March and May, 2016.
OLTA – in partnership with Orland Conservation – is pleased to offer two webinars focused on strengthening and advancing land securement efforts. These webinars will appeal to anyone involved in land securement work, and are highly recommended for staff and/or volunteers at land trusts, conservation authorities and municipalities.
Webinar #1: Negotiations: From Start to Finish
Wednesday March 23, 2016 @ 1-2pm ET Presented by: Robert Orland and Kate Potter, Orland Conservation
The first webinar in our series will offer a detailed review of the land securement negotiation process. Working from landowner negotiations to dealing with third-party service providers before closing the deal, this webinar will include tips and lessons learned from Orland Conservation's experience securing 5,000 acres of land in Ontario. The negotiation process often requires a lot of back and forth communication between parties. Learn how to safeguard your resources while determining solutions that fit everyone's needs: your partners/funders, the landowner and you!
Webinar #2: Land Securement Funders
Thursday May 26, 2016 @ 1-2:30pm ET Presented by: Kate Potter, Orland Conservation, with special guest presentations by land securement funding organizations
Long gone are the days when land securement funding was in ample supply, but it is not all bad news. Hear from current funders about funding opportunities for land acquisition, strategies and more in Canada. Featuring discussions with representatives from Nature Conservancy of Canada, Ontario Trails Council, Ontario Land Trust Alliance, and Environment Canada.
*TIME CHANGE: Please note that the length of this webinar has been extended from 60 to 90 minutes.
How to Register
Please contact OLTA at 416-588-6582 or e-mail Phyllis Lee at phyllis.lee@olta.ca
Once registered, OLTA will assist you with any set-up/technical aspects. Please note that the participation fee is per 'computer' – you can have as many people gather 'round as you'd like!
For complete details, view or download the flyer

Note: Times are Eastern Standard Time
OLTA Members: $15 for one webinar or $25 for both webinars
Non-Members: $25 for one webinar or $40 for both webinars
OLTA is pleased to extend member pricing to members of any land trust alliance in Canada.
Speaker Bios

Robert Orland
Robert founded Orland Conservation in 2003 as a social enterprise that offers a range of services in land conservation, sustainability planning and environmental communications to municipalities, conservation authorities and land trusts. Acquiring over 25 years of experience in land conservation, Robert began his career as an environmental planner with the Lake Simcoe Region Conservation Authority and worked in a variety of positions before specializing in land securement with the Nature Conservancy of Canada. In 2008, Robert formed Backyard Bounty, an urban farming organization that promotes community-based sustainable urban gardening and organic food production in partnership with local residents and business owners in Guelph. A skilled strategist, public speaker and accomplished entrepreneur, Robert has delivered presentations and workshops as an expert on land securement across southern Ontario and abroad. Working in partnership with municipalities and government agencies for many years, Robert has facilitated and advised on the protection and creative stewardship of nearly 10,000 acres of environmentally significant natural heritage lands and parks in Ontario's urban and rural communities. Robert is committed to making a sound contribution to the land conservation and sustainability movement in Canada.
Kate Potter
Kate brings more than 10 years of experience in conservation project management, public outreach and multi-stakeholder engagement. She previously coordinated over 30 municipal and non-profit stakeholders for the Caring for the Moraine Project with the Oak Ridges Moraine Foundation and led the development of a watershed stewardship and outreach project with the Lake Simcoe Region Conservation Authority. Since 2011, Kate has coordinated landowner contact and education for the Peel Region Greenlands Securement Program. She has worked closely with municipalities and conservation authorities to develop conservation land securement strategies and programs throughout Southern Ontario. In 2013 Kate organized a natural heritage land conservation and stewardship workshop with the City of Mississauga for local landowners. Kate is particularly skilled in strategic planning, program assessments, facilitation, outreach and education, partnership-building and contributing to community-based conservation and sustainability initiatives.
Related Projects: